Pocket Chef(TM) Volume One comes with 45+ recipes and lets you add your own family favorites - Click here for a recipe index. Carry Pocket Chef with you and you'll always have the answers to these questions:
What shall I cook?
How do I make it?
What do I need from the store?
That's because for each Pocket Chef recipe, including those that you add yourself with the innovative Pocket Chef Recipe Maker(TM) page, you'll have one tap access to"
detailed recipe ingredients
your grocery shopping list
recipe background
chef's name
explicit directions
plus an illustration!
This puts you in control - where ever you are - and what that really means is that you're saving time and money and eating more of your favorite foods!
---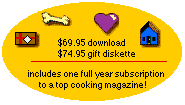 Call 727-734-2026 or click here to
purchase online now


Makes a Great Gift
Pocket Chef Volume One includes a handy turkey time roasting chart plus an interactive, quick pocket reference with weights and measures conversions for cooks plus:
Holiday Helpers: Turkey Roasting Tips and Hints, Creamy Mashed Potatoes, Success Every Time Gravy, Butternut Squash Gratin, Basic Ham Glaze, Pumpkin Pie Cake, Hartshorn Christmas Cookies with Pure Anise Frosting, Chewy Pecan Bars

Main Courses: Chicken Big Mamou by Chef Paul Prudhomme, Honest Bowl of Red Chili, Old Fashioned Meatloaf (makes awesome sandwiches), Meat-Lover's Spaghetti Sauce, Uncle Jim's Beef Stroganoff, Linguine w/ White Clam Sauce, Chili Colorado Burritos (great on the go food, keep 'em in the freezer), Salmon with Ginger-Lime Marinade, Festive Frittata

Vegetables & Salads: Nice & Shrimple, Zucchini Parmesan Casserole, Crunchy Snowpeas & Onions in Chinese Oyster Sauce, Heathly Garlic Salad and Dressing (breath mints required), Mom's Abrosia

Snacks &amp Appeteasers: JoAnn's World's Best Cleveland Hummus, Herbed Cheese Duo, It's the Real Thing Salsa

Side Dishes, Rice: Red Eggs, Roasted Garlic, Wonderfully Wild Rice, Rice Pilaf

Sweets & Desserts: Dad's Crumbly Fudge (great gift!), Unbeatable Brownies, Anita's Toffee Candy Squares, Frosted Cherry Chocolate Chip Bars, Beanie's Any Fruit Crumble, Elise's Blueberry Pie, Old Fashioned Molasses Cookies, Frosted Apple Spice Cake, Uncle Bob's Favorite Chocolate Cookies, Chewy Walnut Squares, Sweet and Pure Vanilla Frosting, Anise Frosting

Beverages - Alcohol-Free (also references which liqueurs are included in the original, "spiked" versions just in case): World's Easiest Party Punch, World's 2nd Easiest Party Punch, The Pink Lady, Orange Eggnog Punch, Hot Apple Toddy, Cranberry Mimosa Punch, Wassail Bowl

For Kids & Pets: Alanna's Play-Dough, Brewster's Good Boy Dog Biscuits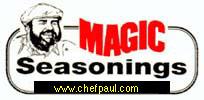 This Chicken Big Mamou Recipe
is from the kitchen of the
infamous Chef Paul Prudhomme.
Click his picture to visit his site!

Salad spinner
and the world's
greatest garlic press
by Susi -
the salad lover's essential toolkit
Click on the pictures to order now